The importance of project management in successful ERP implementations
by Adam Warden on
Implementing an ERP system is a massive and intricate IT undertaking that can affect nearly every aspect of your organisation. During the implementation process, business practices may be altered while new technology is integrated, and this can affect the daily tasks of many employees within the company.
Because of this, project management plays a vital role throughout the entire implementation. By guiding your organisation, setting the standard for the project, and addressing and resolving problems as they arise, your project management team are detrimental to your ERP success.
In fact, studies have shown that when ERP projects fail, lack of proper project management is often the main culprit.
In this article, we explore the importance of ERP project management further and how you can mitigate the risks of implementation failure.
1. Resource allocation and management
Managing the schedules of large projects can be challenging, particularly when it comes to ensuring that the necessary personnel are available when needed. It's important to identify potential time conflicts in the schedule and to allocate resources accordingly. This includes accounting for vacation time, sick leave, and other unexpected absences.
By performing a critical path analysis, project managers can identify any potential roadblocks or "showstoppers" that could impede the project's progress. This analysis helps to identify which resources are essential at specific times and ensures that those resources are available when needed.
For example, if the construction of a new ERP system's database is scheduled for a Tuesday, the database administrator must be present on that day to complete the task. It sounds straightforward, but when you've got hundreds of tasks, subtasks, and people to assign to each, it can quickly become a mess without proper organisation.
2. Change management
Implementing an ERP system often requires significant changes to your organisation's processes and procedures, and these changes can have a major impact on your employees, vendors, and customers. The ERP system may adapt how your work is done (for the better), so it's crucial that these changes are effectively communicated and managed. This is where change management comes into play.
A project management team must work with all stakeholders to ensure that these changes are effectively communicated, and that employees are trained and prepared to use the new system effectively. This includes identifying and communicating the benefits of the new system, as well as the changes that will be required to existing processes and procedures.
Creating a communication plan that addresses the different types of stakeholders, such as employees, vendors, customers is beneficial. This plan should define the type of information that will be communicated, the frequency of communication, and the channels that will be used.
3. Quality assurance
In order to achieve a successful implementation, it's important to make sure that the quality of the ERP system is in line with the requirements of your organisation and that it meets the needs of the end-users. This is known as quality assurance and includes the testing, validation, and monitoring of the system to ensure it is working as intended.
The responsibility of making sure adequate testing is performed through QA (quality assurance), should fall on the project management team. Without this oversight, the system could fail on performance, security, or usability requirements later down the line.
4. Post-implementation review
After the ERP system has been implemented, the project management team should conduct a review to assess the success of the implementation and identify any areas for improvement. This includes evaluating the system's performance, usability, and compliance with your organisation's requirements.
The review should also include a feedback session with the end-users to gather their input on the system's usability and to identify any areas that need work to better meet their needs. This feedback can be used to develop a plan for addressing any issues and to make any necessary changes to the system.
On top of this, a cost-benefit analysis can also be conducted to determine whether the ERP implementation has achieved the expected return on investment.
ERP project management from Nolan Business Solutions
At Nolan Business Solutions, we deliver strong project leadership by providing a single point of contact throughout the entirety of our projects. Led by our Operations Director Brian Jones, our Project Management team drive and track all activities and deliver effective scheduling of resources ensuring concise reporting for stakeholders and helping to keep control of budget and scope.
Statistics show that project management greatly increases project performance which ultimately leads to a happy customer, and on the flip side, projects can fail due to no process, a lack of control, no effective sponsorship, and not understanding the value of project management (PMI – Pulse 2022).
Our seven-step process seen below ensures the best possible result for our customers throughout their implementation journey and further supports their decision to trust us as their ERP partner.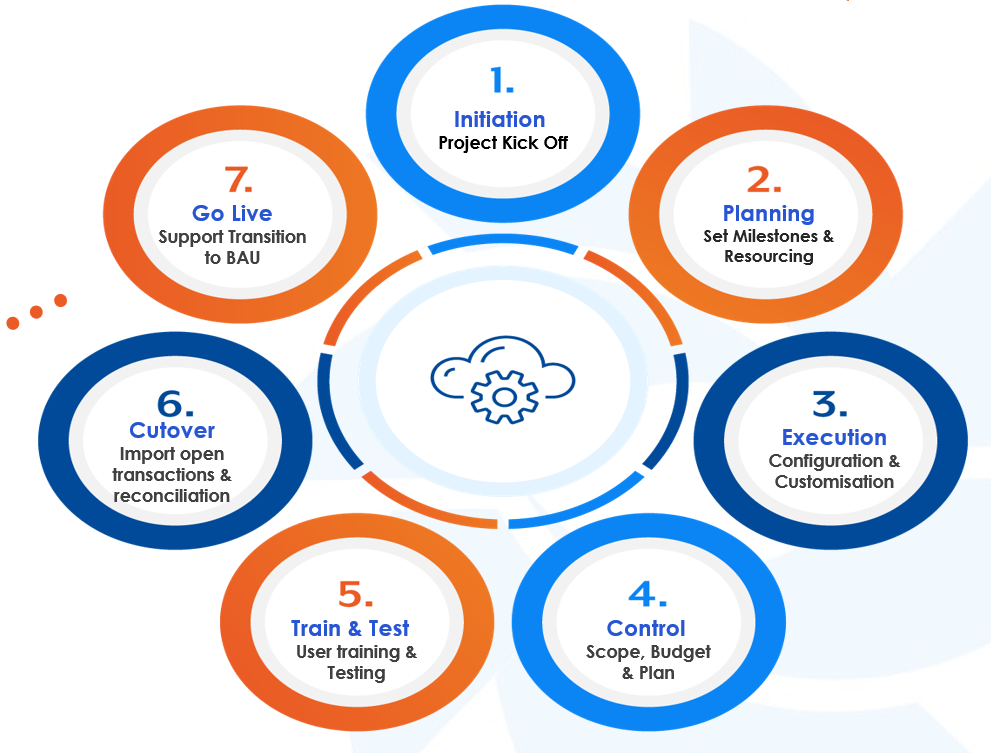 At Nolan Business Solutions, we're committed to providing long-term ERP solutions tailored to our customers' needs. We're the experts in providing NetSuite and Microsoft Dynamics solutions that help businesses looking to grow. So, if you're looking to start your ERP implementation journey, we'd love to support you. Contact our team today for more information.