Microsoft GP Update - Save setting for Display new PO message (prevent future prompts)
Purchase Order Update
Keep the additional functionality, but save some clicks!  When creating a Purchase Order with the Purchase Orders Preview window, a prompt appears to skip displaying the new purchase orders.  The user can select No which directs them to a navigation list with all of the new purchase orders that they created, or select Yes, to simply print the purchase order generation report.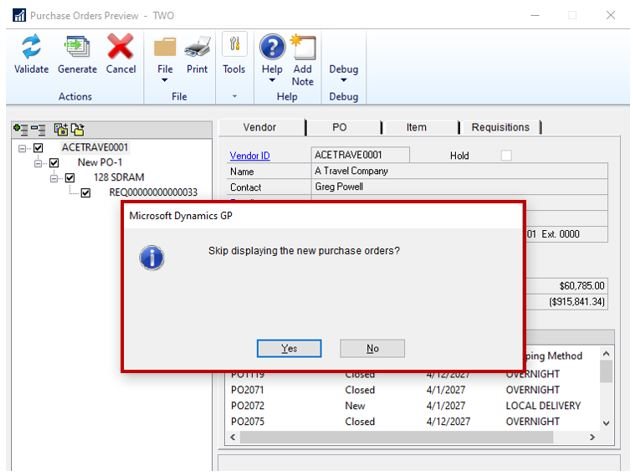 A new setting is available to choose whether you wish for this prompt to occur, or if you would rather skip the prompt and the selected setting will automatically occur.
To choose a preference, go to the Microsoft Dynamics GP menu, point to Tools, point to Setup, point to Purchasing, and Click Purchase Order Processing.  Select your desired preference from the list next to Skip displaying the new Purchase Order.

Skip displaying the New Purchase Order Options
Show the message: The prompt will be displayed every time.
Don't show the message and open the new PO: The Purchase Order Transactions navigation list will open with the newly created Purchase Order(s) automatically without prompt. Don't show the message and don't open the new PO: The Purchase Order Generation Register Report Destination window will appear without prompt.
For more information on any of the above, you can get in contact with one of the team at Nolan Business Solutions through the information provided below.
Email: info@nolanbusinesssolutions.com
Phone: 01252 811 663